Guest blog by Danielle from Cooks and Travel Books.
Formerly the "backstage" at dinner parties and home gatherings, the kitchen has become the true gathering space of the home. People are turning their kitchens into really impressive spaces. Now more than ever, companies are using processes like graphic design and rapid prototyping to produce kitchen items that are both functional and elegant. Here are some of the top products on the market in both form and function.
Last year the German company Miele began offering a built-in coffee system. The appliance froths or steams milk for cappuccinos and lattes. It will distribute water for tea or hot chocolate through a separate spout. The machine costs just under $2,000.
The Aga Rayburn oven and range has been a fixture in high-end English homes for ages, but is just now beginning to appear stateside. It looks like an antique throwback but it's actually a tech wonder. The different cook style takes some getting used to, but it's perfect for timing all the elements of a dinner. Basically, the oven is always on. The different drawers are for cooking, roasting and warming. Instead of the cook having to alter temperatures, they simply move food items from one drawer to another. The Aga Rayburn also heats the kitchen it's in, which made it an early commodity in drafty English homes. The Aga Rayburn goes for $8,755-9,795 in the U.S. with two-burners and between $12,500 and $13,500 for a four-burner model.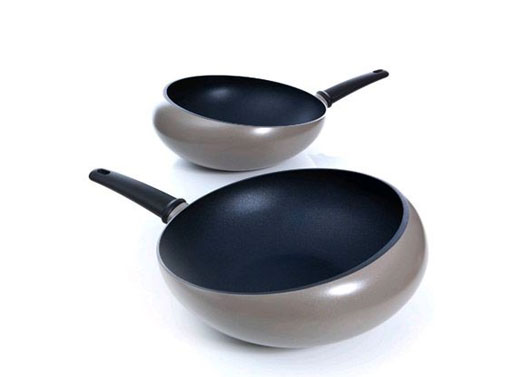 Many kitchen innovations make people say, "Why didn't I think of that?!" The Boomerang Wok is one of those inventions. This Wok makes it simple to flip, spin and stir culinary concoctions with flair. With this wok and a little wrist action any chef can easily channel the finesse of a stir-fry master. With a price tag of $100 this little gem doesn't come near the cost of today's most expensive wares, but its style certainly keeps it in kind.
Top-level gadgets can get really specific and the Viking EVEWD163SS Plate warming drawer is a great example. The drawer can hold about 57 liters and is 90 centimeters wide. Its task is simple; it takes cold plates and turns them into warm plates. This is perfect for highly temperature sensitive dishes or entertainers that want to take extra steps to produce that restaurant feel. The drawer costs £1739.
More about Danielle: Danielle has a weakness for trendy kitchen gadgets and likes to experiment with recipes that challenge her to use new ingredients. Read her blog about cooking and traveling at cooksandtravelbooks.com..